Group Release | Shanghai, China | August 13, 2020
At the 14th (2020) SNEC PV Power EXPO in Shanghai, CRE New Energy delivered influential presentation and had intensive networking opportunities with the international photovoltaic industry.
Shanghai, China (August 08, 2020 – August 10, 2020) – CRE New Energy, as the leading industrial capacitor supplier for photovoltaic applications, attended 14th (2020) SNEC International Photovoltaic Power Generation and Smart Energy Exhibition & Conference at Shanghai New International Expo Centre. The CEO and the co-owner of CRE New Energy introduced innovative business concepts of photovoltaic (PV) industry and the engineering experts presented state-of-the-art capacitor solutions. We also had intensive networking opportunities with our potential clients, business partners, competitors and policy makers.
Thanks to multiple government agencies and event host Follow Me International Exhibition corporation, the event was only postponed for 2 months instead of canceling due to COVID-19 pandemic. SNEC has been the most renowned and influential PV trade show worldwide since 2007. The exhibition this year occupies 170,000 square meters indoor area and attracts 1,500 exhibiting companies with estimated 260,000 visitors. The SNEC conference addressed various topics including PV market trend, business partnership strategies, government policy-making directions in different countries, cutting-edge industry technologies and PV finance and investment models. The SNEC exhibition presented a range of PV-related technologies and applications including electronic components for PV products (charging station, PV inverters, monitor systems), renewable architecture (PV power systems, PV cooling systems), energy storage technology (power stations, smart grid information technology, IoT) and new energy vehicles.
"We've always set our vision to provide innovative solutions for global community in order to connect with the inevitable and volatile future electronic world…" shared by Dong Chen (George), CEO of CRE New Energy. "We are setting both our feet into some pretty new area, it's defining itself, evolving and maturing. How can we lead ahead but not merely follow behind? This is a constant question I ask myself and my fellow colleagues…" added by Mr. Chen. "…As one of the responses for clean energy trend and sustainable development, the EV and HEV market is expected to continuously expand and eventually replace ICE models. Metalized film capacitors at CRE will be the effective, reliable and leading solution for your future EV production to compete with traditional car industry and satisfy market criteria…" addressed by Fei Wang, co-owner of CRE New Energy. Along with other senior staffs of CRE new energy, CEO Mr. Chen and co-owner Mr. Wang were presenting our company in booth 116-117, hall E6. Various CRE advanced capacitor models were introduced including DMJ-MC series for power supply applications, DMJ-PS series for solar (PV) inverters, DKMJ-S series for VSC-HVDC applications or electric cars (EVs) and AKMJ-MC series for AC filtering and harmonic wave control in large-scale Uninterruptible Power Supply (UPS). During the exhibition, we spent most of the time networking with our potential clients, business partners, peers, competitors and policy makers and had many constructive discussions.
Energy supply and storage through photovoltaic technology are believed to be the ultimate solutions to resolve energy scarcity for human species. CRE New Energy will march forward with world business leaders and pass on the torch of sustainable development for generations to come.
For inquiries,
please contact our sales manager, Li Dong (Liv), dongli@cre-elec.com
For more information about SNEC EXPO in general,
please visit http://www.snec.org.cn/HomeEn.html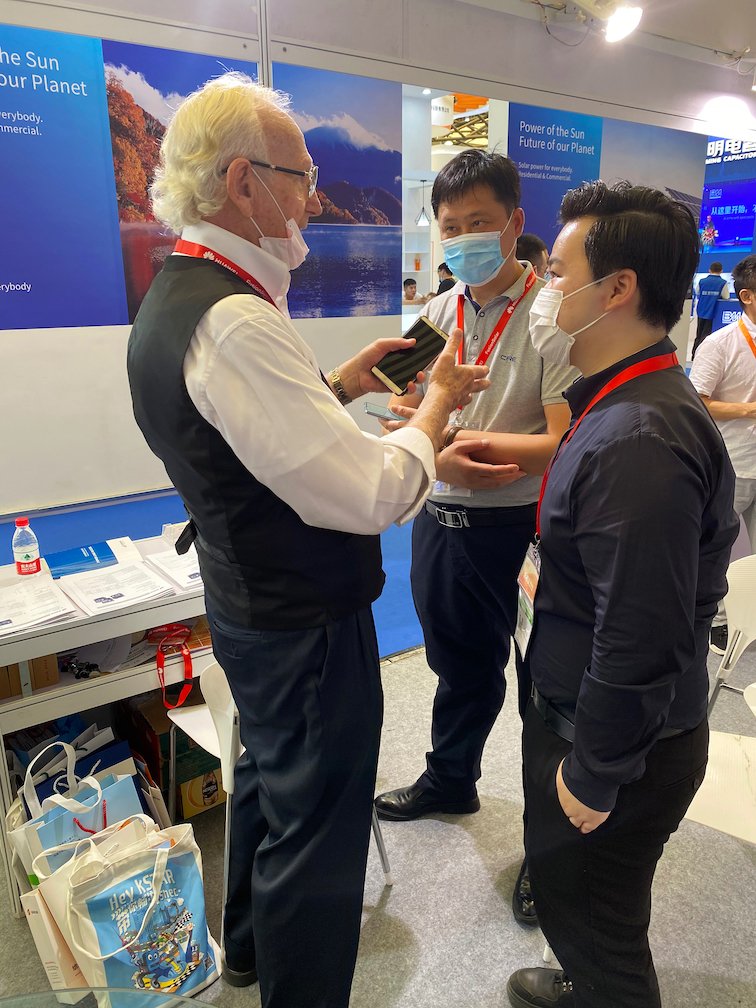 ---
Post time: Aug-14-2020